Tooth extraction may be necessary if the health of a tooth has been compromised. For example, a tooth that has been damaged beyond repair or a tooth showing excessive decay may require removal. Some patients may also require a tooth extraction because of severe overcrowding of the teeth. Whatever the reason, removing a tooth doesn't need to be daunting. With the right dental team, individuals can get the oral health service they need with minimal anxiety or discomfort. At Lovett Dental Cinco Ranch, we are experts in performing safe, pain-free tooth extractions.
Do You Need a Tooth Extraction?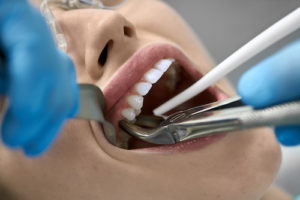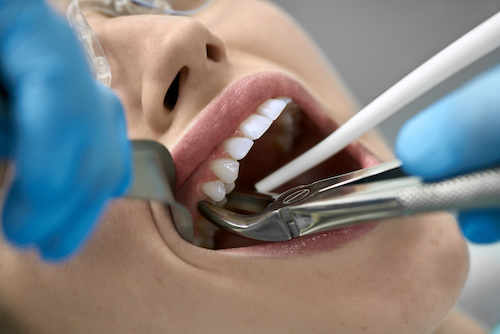 If you are experiencing tooth pain or have recently suffered a traumatic injury to your mouth, please make an appointment to see one of our dentists. Your visit will start with an examination and X-rays so that your dentist can assess the extent of the damage or injury. Your dentist will then discuss with you the possible options for repairing the tooth in question, such as root canal treatment. There are times, however, when a tooth is damaged beyond repair. If that is the case, your dentist will discuss the need for tooth removal with you.
Types of Teeth Extractions
Depending on your situation, you may require either a simple extraction or a surgical extraction of the tooth. In a simple extraction, your dentist at Lovett Dental will be removing a tooth that is visible above the gum line. This is typically a quick outpatient procedure performed under local anesthesia.
However, if the tooth has not erupted or has broken off under the gum line, your dentist may have to perform a surgical extraction. During this procedure, your dentist at Lovett Dental Cinco Ranch will make a small incision in your gum to remove the tooth. Wisdom teeth that have not erupted are commonly extracted in this manner.
Reasons for Teeth Extractions
At Lovett Dental Cinco Ranch, we perform tooth extractions for many reasons. But the following are some of the most common reasons why a tooth extraction for a patient may be necessary:
Tooth decay: When left untreated, decay can damage a tooth so severely that it can no longer be saved with a filling or even a root canal.
Trauma: A blow to the mouth could damage a tooth or teeth beyond repair.
Overcrowding: Patients who plan to have orthodontic work may need to have permanent teeth removed to create space for the remaining ones' proper alignment.
Gum disease: Gum disease can affect not only your gums but also the ligaments and the bone supporting your teeth.
Impacted teeth: On occasion, a tooth may not erupt from the gum properly, resulting in discomfort or pain.
Restoration Options After Tooth Removal
Before we perform a tooth extraction procedure at Lovett Dental Cinco Ranch, our dentist will discuss your restoration options, which include:
Because our dentists have many years of experience in tooth removal and restoration, they can recommend the best options to fit your needs.
Call Lovett Dental Cinco Ranch to Learn More
At Lovett Dental Cinco Ranch, you will receive expert care in a state-of-the-art dental office. More importantly, we understand that some patients are nervous about dental work, so we always strive to make them as comfortable as possible before, during, and after their procedures. Lovett Dental Cinco Ranch accepts dental insurance, and we can also work with you to create a payment plan.
We have multiple locations in Texas and offer early, late, and Saturday appointments. Concerned that you might need a tooth extraction? Please call us at 713-244-7799, and we will be happy to schedule an appointment.