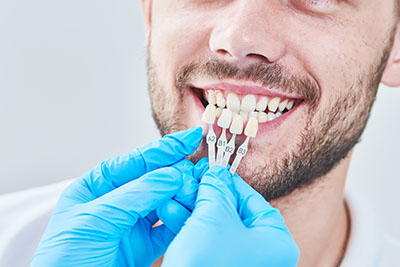 Dental veneers are porcelain or composite (resin) coverings that adhere to the teeth. They hide unremovable stains, chips, wearing, and abnormalities in the teeth. Lovett Dental offers dental veneer services in TX. Your smile is vital to your self-confidence. Unattractive teeth can result in an individual hiding their smile. Also, having a beautiful, healthy smile makes you look more professional. If you are looking for cosmetic dentistry in Cinco Ranch TX, Lovett Dental can help.
What Type of Dental Veneers in TX Do I Need?
Your dentist will help you determine the type of veneers that are best for your particular lifestyle and needs. There are two main kinds of dental veneers in TX. The differences between the two include:
Porcelain veneers are constructed in a lab. They are more stain-resistant and last longer, but they are also more expensive. This procedure will be longer as you will need a fitting for your veneers. The lab will use the imprint of your teeth to make you a custom set of porcelain veneers. Once the lab has made your veneers, your dentist will install them. You can expect porcelain veneers to last 10-15 years or maybe longer
Composite veneers are attached to each tooth. This process is usually completed in one visit and is less expensive than porcelain. Composite veneers are resin-based. They typically last 5-7 years and will then need to be replaced
If you have minor issues with your teeth, composite veneers will be sufficient. However, if your teeth have spaces, dark spots, or if you grind your teeth, porcelain is probably the better choice. Again, your dentist can tell you more about what is appropriate for your needs. If you are looking for a specialist that does dental veneers in TX, contact Lovett Dental for the best care available.
Are There Advantages and Disadvantages To Dental Veneers in TX?
In almost every circumstance, there are pros and cons. Some benefits and disadvantages to choosing veneers are:
Part of the process of getting veneers is the need to prepare your teeth. In this case, the preparation means that the specialist will remove a minimal amount of the tooth to make room for the veneer covering. Once this process is complete, you cannot go back to not wearing veneers. Any breaks or chips that occur will need to be repaired or replaced. Making sure you can keep up with this expense is part of the process.
Bad habits such as nail-biting, eating ice or hard candy, and clenching or grinding your teeth can break off the veneer covering. It will be vital to avoid these behaviors to keep your veneers intact.
People with extreme tooth decay cannot have veneers, as in that case, they are merely covering up the decay. If you suffer from severe tooth decay, discuss your options with your dentist before getting dental veneers.
An advantage of having veneers is that they provide a way to save most of the real tooth. The gum tissue is protected as well!
You will end up with a perfect, radiant smile for years to come.
Porcelain veneers are stain-resistant.
Some insurances pay up to 50% for veneers. It is always important to consult with the insurance specialist at your dentist's office as well as your insurance company before moving forward with dental veneers in TX. To find out if your insurance will help with the cost of your dental veneers in TX, check with Lovett Dental here.
Lovett Dental
Lovett Dental Cinco Ranch offers dental veneer services in TX. Our board-certified specialists are equipped to provide all of the services necessary to complete your veneer application.
Isn't it time you got your dream smile? Lovett Dental is ready to help you accomplish that goal. Call us today at 832.662.3059 to make an appointment and start on the path to a new you.