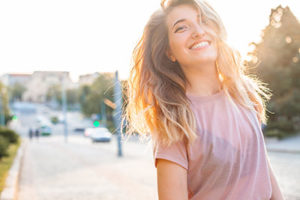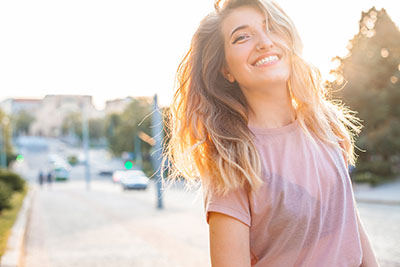 Good oral hygiene includes professional teeth cleaning twice a year to remove plaque buildup and check for any dental problems. At Lovett Dental Cinco Ranch, we provide teeth cleaning and dental exams to assess your existing teeth and take care of your oral health. If you have any tooth decay, we provide general dentistry to prevent further decay and restore your teeth.
The Benefits Of Teeth Cleaning
It's important to have your teeth professionally cleaned in order to remove any plaque or tartar buildup that you can't remove with normal brushing. Even when you have great oral hygiene habits, plaque and tartar can build up on your teeth and require professional help to remove it. Teeth cleaning benefits include:
Removes hardened tartar that can destroy your teeth over time

Takes care of plaque that builds up and eventually turns into tartar

Reduces your chances of developing gum disease

Polishes your teeth to remove stains and any leftover plaque
Lovett Dental provides teeth cleaning and teeth whitening services in Cinco Ranch, Texas. We understand the benefits of regular teeth cleaning and we are ready to give your teeth the care they need to stay healthy.
What Happens During Teeth Cleaning?
Your teeth will be carefully evaluated when you go for an initial exam at our dentistry. At Lovett Dental, our dentist and hygienist will give you an oral exam that may include:
Dental X-rays to check to see if you have decay that is missed with a visual exam

Assessing your gums and bone around your teeth to look for gum disease

Checking for signs of oral cancer in your mouth, throat, face, neck, and lips

Looking over your current dental work to make sure everything is still intact
A dental exam is a thorough inspection of your mouth to look for signs of disease and dental decay. At Lovett Dental, we take your dental health seriously. We provide a comprehensive exam to make sure there is nothing going on with your teeth before we clean and polish your existing teeth.
Be Diligent About Your 6-Month Dental Cleanings
Plaque builds up over time. It is a combination of food particles, bacteria, and saliva that sticks to your teeth and eventually gets hard. Plaque causes inflammation in your gums, which eventually leads to gum disease. Plaque can get below the gum line and can't be reached by brushing alone. When you go to the dentist for teeth cleaning and dental exams, the plaque is removed using special instruments.
If the plaque is allowed to harden, it turns into tartar. This can damage your gums even further, and cause problems with tooth decay. Tartar has to be removed by a hygienist or dentist and will cause your teeth to decay if it is not taken care of. Tartar absorbs stains, giving your teeth a stained look when there is too much tartar. It is a porous surface and creates an area where additional plaque builds up easily.
Schedule A Teeth Cleaning Today
Teeth cleaning and dental exams are an important part of your dental health. If it has been more than a year since your last teeth cleaning in Houston, TX or the surrounding area, it's time to set up an appointment with Lovett Dental. Contact our office online or call us today at 713-244-7799 and set up an appointment to get your dental health back on track. Good oral hygiene starts with a dental exam.