Sedation-friendly dentists will change the way you feel about having dental work done. Some people worry about the pain and discomfort of dental procedures. You may be afraid of what is to come if you require a dental procedure. Do not let your oral hygiene suffer because you are afraid of pain and discomfort. There are ways around this! Instead of fearing dental work, work with our dental team to get the oral care you need at Lovett Dental Cinco Ranch. We offer sedation dentistry which will allow you to seek the pain-free dental treatment that you need.
What Is Sedation Dentistry?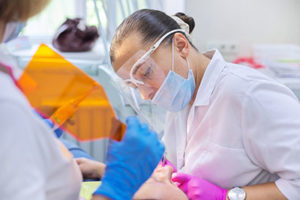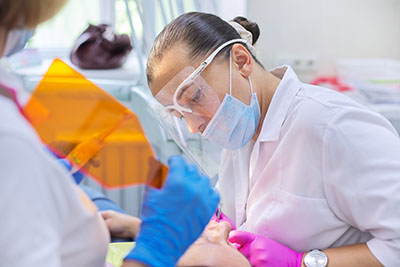 Most of the time, dentists can handle dental appointments without the use of sedation. However, there are some procedures and treatments that may require dental procedures to be a bit more aggressive or invasive. In these cases, our Houston sedation dentist may be able to use medications to help put you at ease.
Who Needs Sedation Dentistry?
Our dental team will always meet your needs. If you know you or your child is likely to have a poor reaction to a dental procedure, you may want to mention this to us during your appointment setting. Even if you do not, when you come in for an appointment, we will talk to you about the different options that we offer.
Some procedures are more invasive, and you may feel some pain. This includes procedures such as:
Root canal treatments
Damaged tooth extractions
Wisdom teeth extractions
Oral surgeries
Additionally, we offer dental implant procedures and complex periodontics procedures. In every situation, we will use the right type and amount of sedation to keep you calm and pain-free during the appointment. If you or your child struggles with dental anxiety, our dental team will talk to you about sedation dentist services in Houston that may help. There are solutions capable of taking the intensity off of the procedure and giving you the relief you need during the actual appointment.
Will You Be Put Under?
There are different levels of sedation we can use. When you meet with your sedation dentist, you will gain insight into the right level of sedation that our dentists recommend for the procedure you are having. Some individuals benefit from inhaled minimal sedation, which is a type of gas that you will breathe in that helps reduce your anxiety and stress. Oral sedation is sometimes beneficial for more invasive procedures. Oral sedation is a type of medication that dentists give you in pill form.
IV moderate sedation, deep sedation, and general anesthesia are all additional types of treatment available. These are served for the more complex oral surgeries our patients may need. We will recommend these for only the most intense situations to ensure you have the very best level of pain control in the safest form. Our Houston sedation dentist is available to discuss any needs or concerns you have. You can count on Lovett Dental Cinco Ranch to provide you with a range of solutions that is right for you.
Find an Exceptional Sedation Dentists at Lovett Dental Cinco Ranch
For those near Houston, our sedation dentist services are available. If you are concerned about your oral health, but you are worried about pain or discomfort, speak to our dental team. We offer sedation dentistry for many of the services our patients need. Schedule a consultation, exam, and treatment at 713-244-7799 today.