Despite your best efforts to take care of your teeth, our teeth sustain damage as we age. You may even have lost a tooth entirely, leaving an unattractive gap in the front of your mouth. Lovett Dental Cinco Ranch can restore your smile with a crown or a bridge in these situations.
Dental Crowns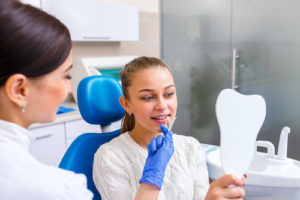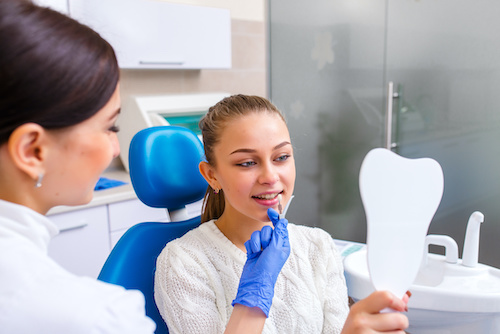 Dental crowns are used to cover a tooth, restoring it to its original shape and size. They are used on damaged teeth that are still worth saving. Dentists use crowns for several reasons, including:
To strengthen a tooth with a large filling when too little of the tooth remains to hold the filling
To strengthen a tooth or to restore one that is broken or severely worn down
To cover badly disfigured or discolored teeth
To make a cosmetic modification
To cover a dental bridge or implant
Our pediatric dentists also use dental crowns on children's baby teeth. While crowns on baby teeth perform many of the same functions as those on adult teeth, they also can protect teeth from decay when a child is struggling with dental hygiene.
Crowns can be made with a variety of materials. At Lovett Dental Cinco Ranch, we use porcelain crowns, which can match your teeth' natural color better and are suitable for everyone, including those with allergies. Porcelain crowns also are durable, lasting for many years. We make the crowns to match the size and shape of your teeth.
Preparing a tooth for a crown usually requires two visits. At the first visit, we examine and prepare the tooth with a temporary crown. At the second, we place the permanent crown. Your crown's lifespan will depend upon your personal habits, such as whether you grind your teeth or bite your fingernails and how well you maintain oral hygiene.
Lovett Dental Cinco Ranch can meet all your dental needs, not just crowns and bridges. We provide:
Dental Bridges
When you are missing teeth, an artificial tooth or teeth will fill the gap. A dental bridge is made of crowns on either side of the artificial tooth to support the tooth and keep it in place. Implants also may support the tooth. Without a bridge, other teeth will move into the space of the missing tooth. The teeth in your opposite jaw can also move out of place. When this happens, it can cause:
Bite problems
Difficulty chewing
Pain
Self-consciousness about your appearance.
On the other hand, dental bridges can prevent the remaining teeth from changing position, restore your smile, and restore your chewing and speaking capacity. A permanent bridge also can upgrade a removable partial bridge.
A typical bridge is comprised of two parts. The first is the abutment teeth or adjoining teeth, which are supported with dental crowns. The second is the false tooth, also known as the pontic, which attaches to the crowns. Bridges, if properly cared for, can last many years. They may fail if the surrounding teeth decay or the cement deteriorates. Two visits also are generally required for us to place a bridge.
Call Lovett Dental Cinco Ranch Today
If you've lost a tooth or if you have a tooth that is wearing down, contact us for dental services. We'll examine whether a bridge or crown will help improve your smile and oral health. If you already have a bridge that has become loose, we can replace it as long as the surrounding teeth are healthy. If it can't be replaced, we will place a new one.
Contact us at 713-244-7799. We'll help you gain admission into our practice and provide excellent dental care for you and your family.