Having a bright, white smile is something nearly all of us desire. However, our teeth can become discolored even if we take good care of them. This is due to several factors like smoking or vaping, regularly drinking coffee, tea, or soda, and eating certain foods with staining pigments (beets, blueberries, and spices like turmeric). Thus, millions of people look to teeth whitening toothpaste an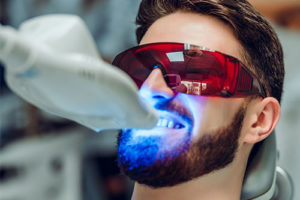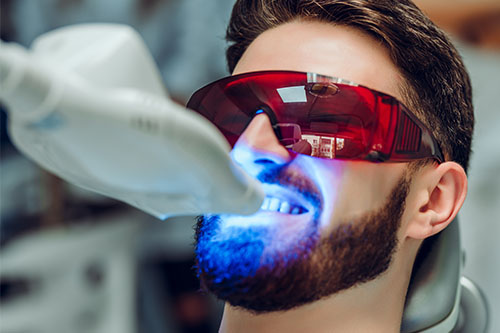 d store-bought whitening kits to brighten their smile. However, these options are unlikely to have a lasting or significant effect. The best route to go is professional teeth whitening at your dentist. At Lovett Dental Cinco Ranch, we can help you get the bright smile you want at a price you can afford. Our board-certified dentists are here to help you find the teeth whitening service that is right for you. Our teeth whitening services fit around any schedule with both at-home and in-office options.
A brighter smile can go a long way toward improving your overall outlook. Take a closer look at our teeth whitening and other cosmetic dentistry services. Learn more about how teeth whitening services at Lovett Dental Cinco Ranch can help improve your smile.
Teeth Whitening Services
If you've been looking online for ways to whiten your teeth, you've likely come across a lot of information. It can be hard to tell what works and what doesn't. That's where we come in. When it comes to teeth whitening, our patients deserve the best. That's why we offer both at-home and in-office options to give you the smile you deserve. 
We are proud to offer at-home teeth whitening services at Lovett Dental Cinco Ranch. This groundbreaking treatment for teeth whitening has already helped thousands achieve their perfect smile. It's perfect for that upcoming interview, first date, or wedding ceremony. With our at-home teeth whitening services, we promise the following:
 

Simple treatments you can do at home

 

Immediate and noticeable results

 

Maximum comfort with no sensitivity

 

Treatments that can support the busiest lifestyles, including frequent travel
We also offer various in-office treatments such as "Philips Zoom" and "Venus White Max." Whether you're looking for a flexible treatment, one you can do yourself at home, or looking for an in-office experience with our professional guidance. Our friendly staff is here to help you achieve a whiter smile today.
What Causes Stained Teeth?
Stained, discolored, or yellowing teeth are much more common than you might think. Stain teeth are not always a sign of poor dental hygiene. Some lifestyle choices, such as drinking coffee, can stain even healthy teeth. That's why our general dentistry teeth whitening services are designed to whiten and smile no matter the cause. Some of the causes of stained teeth include:
Food and Drink – Dark beverages such as coffee, tea, and wine can discolor the teeth through exposure. Foods high in sugars can promote bacterial growth that causes plaque to discolor.

Poor Dental Hygiene –  Regular brushing and flossing is a great way to keep teeth white. Having poor dental hygiene, however, can lead to yellowed teeth.

Genetics –  Not all stained teeth are a sign of poor health. Some individuals have naturally darker enamel on their teeth. Like all stained teeth, a naturally darker enamel can be whitened.

Health and Medication – Certain medical conditions and medications can also darken teeth. Thankfully, teeth whitening is non-invasive and can complement many other medical procedures.

Smoking –  Among its many negative impacts on your health, smoking also damages and yellows teeth.
Benefits of a Whiter Smile
Our teeth whitening services can help you have the smile you deserve. A brighter smile can help raise confidence, promote better dental health, and generally raise your quality of life. For these reasons and more, many people are looking for teeth whitening services. A brighter smile can make you feel better about the person you see in the mirror every morning.
Discover How Lovett Dental Cinco Ranch Can Help
If you are looking for teeth whitening services in west Houston, our expert staff at Lovett Dental Cinco Ranch is here to help. Teeth whitening is just one of the cosmetic services we offer. Some of our others include:
We also offer general and pediatric dentistry. To brighten your smile today, contact us online or give us a call at 713-244-7799.